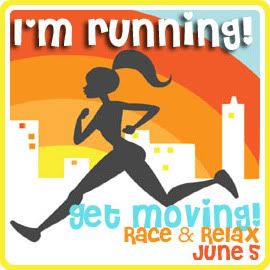 WOOT WOOT! Have you ever just KNOWN you would win something? Me either! I never win! But this time, I actually won
The Blogrollers
Run With Wifey Race & Relax Contest!!
Wanna know what I won?
Race & Relax Event Registration (which includes the Virginia Highlands Summerfest 5K run/walk; post-race brunch sponsored by Walt Disney World Resort; a Get Moving! Race & Relax "Powered By Red" race-day T-Shirt, train to manage your pain Red Recovery Routine and bottle of tart cherry juice sponsored by the Cherry Marketing Institute; and other goodies)

Round Trip Airfare

Hotel accommodations for Friday (6/4) and Saturday (6/5) night

Transportation to airport and Race & Relax event activities.
How perfect is this? I'll be joining 15 other women for a ton of fun and I can hardly contain my excitement. This race falls at the perfect time in my current training schedule!
The absolute best part of all of this is that I can finally redeem myself for last year's
Fourth Wheel Contest
fiasco, also sponsored by
@theblogrollers
! I pulled out all the stops and even danced on a pole, only to go down in flames of shame. Just in case you missed it and want to see me with short hair making a complete jackass of myself .....