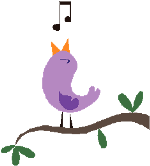 A few weeks ago I posted about not "getting" Twitter. Love Facebook, totally "got" Facebook.  Wouldn't ya know Facebook went and tried to turn itself into Twitter... but that is another story.
I challenged myself to face my fears and Twitterdom embraced me instantly.  I had followers coming out of the woodwork.  My own tweetiness was a little rocky at first, but I stuck with it and I think I'm doing OK.  I didn't really enjoy it at first but something clicked after a few days and now my chatty info junkie self can't get enough of it.
At first I'd get excited when someone would send me a DM (direct message).  But then I realized that a lot of the DMs were like canned spam.  Like this one....
spammerjoe
-
H
ey thanks for the follow. I made a special 2 minute video for you.
I didn't go check out Joe's video because frankly, spammerjoe could have been some psycho perv and then I'd have images to go with the creepy feeling the DM gave me.
Here is another one....
nittwi
t -
Thanks for the follow.  I look forward to getting to know you through your tweets.
Really, do you?  For real?  'Cause trust me, I can tweet my little bootie off if you need me to so that you can get to know me better.
Then this girl DM'd me and sent a link with "
what you can expect from my tweets
".
Uh, are we dating? Am I interviewing you for something?
Just a little note, if you DM me something wack, I usually unfollow.  I'm not as quick to unfollow as some people are, but unless your DM is written fresh for me, or you've been tweeting with me and I like you, I unfollow.
I've made some "friends", found some great blogs and been led to interesting news articles, learned a ton about twittiquette and my blog traffic is definitely up.  I even followed a tweet to a Blog TV show and that was a hoot and a holler..... and a huge time suck in a very large bottle. 

The one downside is that I can't write,  I have a genius moment and then the little bird on Tweetdeck tweets to tell me who is tweeting, and then I have to go see what has been tweeted and then I have to answer tweets, RT (retweet) cool stuff, follow links to other blog posts and news articles, and by the time I do that at least 100 more tweets have occurred and PHEW, it starts all over again!
My advice?  Unless you plan to become infinitely less productive.... stay away from Twitter.